Paris
Day 1
Our train left just after 8 am on Thursday December 23. We had to take an early train so that we could be in Paris to meet Elizabeth and Paco before they left for Spain. I have never rode a train before. Trams and subways, sure, but I've never even set foot on an traveling train. It was much different than the flights I have taken. You can take any amount of luggage you want and their is no waiting to get on the train. I was proud of my wife, who packed a weeks worth of belongings into one suitcase and a backpack. Sure they were stuffed to the gills, but considering we usually take 4 bags for a weekend I thought we were doing quite well. Our seats were next to the window and there were no other seats next to ours. We had a very small table between us as we faced each other. Still their was virtually no leg room and my legs began to cramp after about half an hour. On a plane I eliminate some of this pain by crossing my legs, but that little table kept me from doing this hear. To pass the four hour ride I read
Bridget Jones Diary
and played
Super Mario World
on my
game boy.
It seemed a very long ride.
We arrived in Paris right on time a little after 12 noon. Elizabeth was there waiting for us. Two metro rides later and we were in Pacos snug apartment. It was actually a nice little place. Decent sized living quarters with a little table to the side to make a dining room. Pleasant kitchen and one bedroom. It has a little wash room, with small shower and a separate toilet. The toilet was the one thing I could stand to improve. More like the traditional water closet you hear about, it was literally the smallest toilet I have ever been in. You actually had to stand to shut the door within an inch of your face then somehow maneuver yourself downwards to a sitting position without hitting your legs. You could not ask for a better location though, and no matter I am eternally grateful for the place. It was located about six blocks from the
Eiffel Tower
and about the same distance from
les Invalides
where
Napoleon
is entombed. These are the two structures you see in the picture above.
A little note about Elizabeth and Paco. Elizabeth is a friend from Strasbourg. She is working in the English department with Amy. She is from New York state and is working on her PhD at Penn State. However she has lived off and on in France for some four years. We did not know her in the States at all. Paco is her long term boyfriend. He is an engineer in Paris, though he is originally from Spain. They were kind enough to offer us their apartment while they were visiting Paco's parents.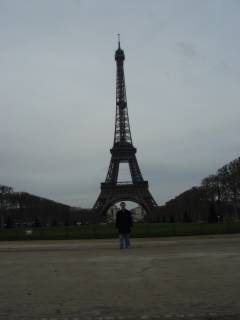 Day 2
Slept long and hard last night, awaking at 10. Went out for an early lunch and then headed out to the Eiffel Tower. As I said earlier, the flat was not but a few blocks from the Tower, but walking in the streets I had not yet seen it because of the high surrounding buildings. About a block away I finally saw the top of it. My first impression was that it looked like an
Oklahoma oil well
. All steel and unimpressive. Once in the lawn where I could take a good look I liked it more, but was still not overwhelmed. We decided to take the stairs up since the line was shorter and it didn't seem that high. Woops, it's some 300 plus steps to the top. Their are three "floors" to the tower. We stopped at the first one already exhausted from climbing. Even from this level you can see most of Paris. All around this floor are panoramic photographs labeling and giving a brief history of all of the Parisian sights. From here we could see all of the places we would stop later in the week. It was an excellent place to begin our first day. From the second floor the view is even more spectacular and from the third it is as you are flying.
After the tower we went home to rest. In the early evening we decided to take a walk. We headed to
Place de la Concorde
and the Egyptian
obelisk
.
This is one of the coolest things I have ever seen. My American brain thinks of time in terms of hundreds, this thing is thousands of years old. It was absolutely astounding. Place de la Concorde is also the Place de la Revolution, holding in its center the guillotine that executed Louis XVI, Marie-Antoinette and some 2,000 others. I was so overwhelmed by the spectacular sight of the obelisk that I forgot this for a moment. It was quite a change of feeling to go from the spectacle of Egyptian mystery to sensing the death of thousands at your feet.
From the obelisk you can see the
Arc de Triomphe
down one of the main streets. It didn't look that far and so we proceeded to walk towards it. Looks were highly deceiving because it took a good hour to walk to it. Knowing very little Parisian history I had always believed the Arc to be some leftover from an Ancient Roman architect. To my surprise I found that it was yet another monument from Napoleon to honor his army. It is much, much larger than I ever imagined it to be. There is a passage way underneath so that you can walk right up to it without having to cross the famous menagerie of Parisian roads that circle the monument. Inside the Arc are dedications to the soldiers of many wars and an eternal flame to the unknown soldiers.
From here we walked to a shopping district. We saw clothes designed by Versace, Gucci and all those classy gay designers I'll never be able to afford. In one window we came across a ladies coat costing over 4,000 Euros. With the conversion rate that is some $5,500! We also walked passed Printemps and Gallerie Lafayette. These two store have a tradition of trying to outdo each other with Christmas windows. Each window was more elaborate and odd. Baby dolls tied to strings flying back and forth across the window. Mannequins dressed in crazy black feathered costumes and so forth. A very interesting sight.
Day 3
Again a very hard and long sleep. All that walking made me get plenty of rest. It was Christmas day. Paco doesn't have a TV, or an internet connection, and we couldn't figure out how to work his radio. So in our downtime we read. I brought Bridget Jones Diary,
Murder on the Orient Express
, and
Nick Hornby
's
31 Songs
with me and have at this point finished them. Paco has books in Spanish, French and English so I began reading his English section. Amy made a very nice meal out of a full chicken, potatoes and carrots. Due to the travel and our limited budget we had already exchanged gifts before the trip with a promise to do a little shopping in Paris. It was a lazy day. In the evening we decided to walk out to Les Invalides and then out to the
Louvre
. They say Paris is the city of lights and it show on Christmas in the night. There are lights everywhere, the city just glows. This night is simply gorgeous. Clean crisp air.
Day 4
After some rest and reading we headed to
Notre Dame
around 11. We swung by the obelisk and cut through the park surrounding the Louvre. Notre Dame is smaller than I imagined. It is hard to imagine Quasimodo hanging from its rafters. They say after the Revolution it fell into great disrepair and it was Victor Hugo's
book
that sparked interest in its upkeep.
It is truly a beautiful building. Great gothic art preaching, teaching and flying buttresses swinging into infinity. After a quick walkthrough we realized that we would like to no more about its history and decide to rent the audio guides after lunch. We stop at one cafe and enjoy its menu, but decide to continue down the road for something better. A block away we run into a similar restraint with cheaper prices only to discover it is the same restaurant and the prices are cheaper because the food is cooked at the first building and walked down to the second. The food was cheap and very tasty, but the glasses of Cokes cost 5.50 Euros a piece! After lunch we enjoyed the guided tour of Notre Dame. It was a thoroughly fascinating experience. I am continually astounded by the craftsmenship of men hundreds of years ago. So much of the design is meant to inspire the people into worship and teach the illiterate with simple picture stories. I can see how it would work. There was a small museum section housing various artifacts and what claimed to be a sliver of the actual cross. But I am more than suspect.
Day 5
Up at 8:30 hoping to make the Louvre by 10. Made it at 10:30. Full stream of people flowing through the doors, but nothing like there would be in the afternoon. As Amy once said, "Even those who don't like art, go to the Louvre." We first made our way through the underground where we viewed section of the original castle that once stood where the museum now is. We slowly made our way through the Egyptian artifacts. Ancient stuff. Hieroglyphics, carved tombs, everything you think of when you think of Egypt, sans the Pyramids. We spent longer here than expected and after a couple of hours I realized we wouldn't make it to Musee d'Orsay as planned that afternoon. Around 1 we escaped Egypt and shuffled our way through Greece and into Italy. Here we are above ground and the rooms are especially ornate. Paintings on the ceiling, gold inlaid mirrors, sculptures throughout and hung paintings everywhere. We decided to catch the Mona Lisa before lunch.
Mona Lisa: My thoughts about the Mona Lisa consumed me. I thought about the Mona Lisa the night before. Thinking of her as I slipped into sleep and she was my first thought when I awoke. I have seen many pictures of the Mona Lisa. Hung on walls, on t-shirts, post cards, commercials it seems her image is everywhere. Thing is, I have never found the image particularly amazing. There are certainly many more artistic works that I find more moving and even enjoy other DaVinci works more lavish. What is it about that one painting that consumes me (and millions of others)? Through Egypt, Greece and Italy my underlying thought was that with each step I drew close to the Mona Lisa. As we drew near crowds of people formed a moving line. Signs pointed the direction to the Mona Lisa. No video, no flash, no cameras what so ever. We arrive into the Mona Lisa room and follow the group where ushers are shouting at those disobeying the signs and pulling out cameras, then shouting again for them to move on. Finally we are there before her it's kinetic, like lighting flashing enlightening the viewer that they have arrived yet so fast to give anyone a proper going over. Then the ushers rushed us away. Ah the Mona Lisa.
I think she smiled at me.
We lunch at an overpriced deli and continue our trip through the Louvre. There is so much to see it is impossible to take it all in. We stumble across the
Winged Victory of Samothrace
on our way towards
Psyche and Cupid
. After getting lost a dozen times we find the winged angel wrestling Psyche. Here I discover that the
Code of Hammurabi
is not far away. We walk the few rooms to Mesopotamia and are awed by the earliest code of laws still intact. Our last stop is the
Venus de Milo
before we realize we are too exhausted to go any farther. And thus ended our trip to the Louvre, without even visiting the 2nd floor.
Day 6
We started out for
Musee d'Orsay
, but the day was too gorgeous to be stuck inside (and the lines were really long). Instead we took the metro to
Sacre Coeur
. It is a stunning church built on a hill that makes it viewable from just about anywhere in Paris. There are large white steps leading up to the church proper and it was on these that we realized that parts of
Amelie
were shot here. It's the scene where Amelie draws chalk arrows on various steps leading Nino on a goose chase to find his lost book. The church looks a bit like a Muslim mosque to my untrained eyes. Definitely different than any church I have ever seen. From the top you get a lovely view of the city. The day was so beautiful we spend a good while just standing on those steps basking in the sun with all the other tourist. I dare say the inside of Sacre Couer is more beautiful than Notre Dame, though it has far less presence than that church. Upon entering there was a large guard telling us to put up our cameras. However, I noticed about 15 steps past him everyone was taking their cameras back out and openly taking pictures as they pleased. So, I was able to get some very nice shots.
We bought sandwiches for lunch and ate outside at a spot overlooking the city. Montmartre is a rather artistic community within Paris and we were overrun by faux DaVinci's trying to paint our picture. They were extremely aggressive. Four or five people sticking a canvas our faces begging us to be painted, or more likely caricatured. There was a little square where less pandering artists were painting various models sitting on little stools. After lunch we went looking for the
Moulin Rouge
. Apparently besides being the name of a quirky film, it is also the dancehall where the can-can was invented. It is also in a very seedy part of town. For several blocks there were peep show booths, lingerie shops, and sellers of sex of every kind in every store. We had some pastries at the Quick (similar to McDonalds) next to the Moulin Rouge and headed towards the
Montmartre
cemetery.
Parisian cemeteries are different than anything I have ever seen. In the cemetery I have seen in Strasbourg the tombstones are generally larger and more ornate than the ones we have in the States, but pale in comparison to the Parisian ones. Here they have huge sarcophagus' jutting out everywhere. Usually they are like small homes where visitors can actually enter in and light a candle and say a prayer for the dead. Many were familial tombs with several members of the family buried beneath. Upon entering the cemetery we were greeted with a sign directing us to the artists/filmmakers/composer, er famous people buried there. We paid our respects to:
Alexandre Dumas
DeGas
Francois Truffaut
The latter one took me aback. I have rather enjoyed all of the films of Francois Truffaut and thoroughly enjoy his acting performance in Close Encounters of the Third Kind. He always seems very young to me, and though I have known he was deceased for some time, seeing his tomb seemed very sad.
From there we walked to an English books store where we finished our Christmas shopping (
Death on the Nile
, and
Playback
for me.) Then we headed towards the Louvre again and stopped nearby at the Palais Royale. The gardens here are where the French Revolution essentially started. A few impassioned speeches stirred the crowds enough to storm the bastille and murder a few thousands. We walked home singing
"You say you want a revolution?
Well you know.
We all want to change the world"
Day 7
Went to Les Invalides in the morning. The main building with the golden dome holds Napoleons remains. It is a beautiful, ornate building. There are several other important military men housed their as well, but Napoleon is who everyone comes to see. Apparently he was originally buried elsewhere and a few years after the fact they dug him up and moved him near the Seine river as he wished. He is now entombed in five different caskets all of which are laid snug in this giant wooden monument. The tomb itself is on a subfloor that opens up to the main floor so it can be viewed. The dome is also directly above his tomb which creates this spectacular movement directed straight towards Napoleon. I suppose it would have pleased the emperor very much were he alive. I couldn't help thinking that even with all that grandeur, his bones are still rotting underneath it all.
Next to Napoleon is a museum for various French wars. It concentrates mainly on General DeGaul and World War II. There are some highly moving videos of the Nazis marching under the Arc de Triomphe and the Allies joyous homecoming a few years later beneath that very Arc. There is a room dedicated to the concentration camps which were appropriately heart breaking.
The rest of the day was spent walking the streets of Paris visiting lesser known monuments and churches. We visited
St. Germain des Pres
which holds Paris oldest bell tower, the observatory, and the cafe where
Ernest Hemingway
wrote
The Sun Also Rises
.
Day 8
We spent the entire day in Musee d'Orsay. This museum was built in an old train station which gives is a very interesting look.
It also houses art from just before the Impressionist era and just after it. We saw some of the worlds most famous, and my own personal favorite paintings. There were art work by Van Gogh, Monet, Manet, Renoir, DeGas and others. It is very peculiar to look at the original work of paintings I have on my walls and have seen copies of all over the place. It was interesting to see many of the tourist taking pictures of these paintings. I saw many a man rest his camera on his mates head or shoulder to balance the camera while he zoomed in for the best shot. Rather than try to photograph something I could buy a better copy of in the mall I decided to try to take interesting pictures of people looking at and photographing the famous pantings.
Day 9
We went back to the Eiffel Tower to get some pictures from the other side. There is a very nice elevated place to stand and take pictures from the far side of the Tower. We then to a metro to cemetery Pere Lachaise. This cemetery is much larger than the one in Montmartre and houses many more of Frances artists, though the most visited tomb is that of Jim Morrison. We visited the tombs of:
Chopin
Balzac
Delacroix
Oscar Wilde
Jim Morrison
I got lost looking for Moliere's tomb and we ran out of time to look for any others. It is very peculiar wandering a graveyard looking for the famous along with a horde of others. There was literally a crowd at Jim Morrisons grave. Cemetary as tourist trap. There were maps at various points of entry throughout the cemetery, but I easily got lost. I found that you would generally wind up at a grave of interest, so to speak, if you stopped at a grave with a lot of flowers or that there were several people gathered around. Unfortunately I tromped along to one section with numerous people gathered around it only to realize it was for someone recently deceased and the people were real mourners. Brought it back into prospective for me.
For the evenings festivities (for it was New Years Eve) we decided to go back to the Eiffel Tower. It was absolute madness. We entered from the back of the garden walkway and could only begin to see the chaos that was about to happen. As we got closer we could hear the shouting, laughing, chanting and general noise from the crowd of thousands. Just before the crowd became a mass a large group of hawkers (the annoying sellers of junk you run into at all the landmarks) suddenly began running away from the crowd. This was no normal let's get out of here run, but a fierce we're scared for our lives bolt. Amy and I both stopped cold wondering what the heck is about to happen. Seeing that the rest of the masses were holding to their partrying we decided they had either stolen a purse, or been run off by the cops. We stopped directly under the Tower which was the center of the madness. On the far side of the tower where we had walked earlier in the day we could see the dark wave of an enormous crowd jockeying for position. All around us though were people waiting for the strike of 12. Alcohol flowed, cries of joy and anger pummelled out from all around us. And as if the official fireworks going off above our head were not unnerving enough many of the masses brought their own. Firecrackers were exploding all around our feet, bottle rockets and Roman candles were ejecting about our heads. After an hour or so we decided we were not prepared for the absolute madness that would be midnight and headed back to our home just after 11. We could hear the partying until well after 3 am.
Last Day
Our train left at 4 and we slept in so there wasn't any time to do any sightseeing. We cleaned up Paco's place and went out for lunch. The train ride back was just as miserable as it was coming down. This time Amy and I sat next to each other with two strangers facing us. As the stops led us to Strasbourg it seemed nearly every other seat was emptying except for ours. We sat the entire four and a half hours trying not to bump into each other. Unluckily for the guy in front of me I was not particularly successful at that endeavor. I kicked and kneed him several time.
5 complete novels read. 2 halves of novels read. 8 monuments viewed. Miles after miles walked. 10 days. All in all it was a fabulous week in Paris.
Thanks for reading.